Sinn Design-Build's Lake of the Ozarks Home Featured in the St. Louis Business Journal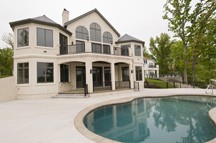 May 23, 2008: Ladue, MO - The custom Porta Cima home at Lake of the Ozarks built by Sinn-Design Build is featured in today's St. Louis Business Journal. The Business Journal, whose May 23rd special report section is entitled "Doing Business at Lake of the Ozarks", included a story on the residential market.

The story by Julia Johnson opens: "So far, the Lake of the Ozarks has remained largely immune to the nationwide downturn in home sales. That's particularly the case when it comes to high-end, single-family properties, say real estate and design professionals."

Johnson interviewed Tricia Sinn to explore the custom, luxury home market at the Lake:

"Tricia Sinn, president of Sinn Design Build in Ladue, said her company also is still seeing a lot of interest from St. Louisans who want to build at the Lake. She owns the design and construction firm with her husband, Frank Sinn.

'A lot of builders are still doing poorly right now, but we're as busy as we can be,' she said. 'It's because our clients are willing to spend money if they feel the value is there. Many of them have been to the Lake, and have seen lower quality homes there, and want to build better quality.'

Sinn said she's seeing a lot of interest in the $1.5 million and $2 million second homes built in developments like Porto Cima and The Villages. Most are in the 5,000 to 6,000 square foot range, she said.

Sinn said she and her husband tried shopping for a home at the Lake about two years ago, but they were unable to find a property that met their standards, so they built one themselves. Sinn said she found that home builders in the area were used to doing 'cookie-cutter custom homes' with just a few customizable options, as opposed to the 'true custom' homes her company designs.

According to Sinn, design/build customers at the Lake want homes that pose greater construction challenges than urban building in St. Louis or Kansas City, so firms like hers have to be willing to be creative. Because so many buyers want their vacation homes right on the water, many of the houses have to be built into shoreline inclines.

'And everything is designed around the lake and the pool,' Sinn said. The pool is usually built in first, and then the house is built up toward the road. But the front of the house isn't the primary living space as it would likely be in a traditional home, according to Sinn.

That's because lake dwellers use the lower level rear of their houses as the main area for entertainment. 'The lower level is where the action is, with everyone going to and from the pool and the lake,' she said. 'That's where people want a full secondary kitchen, bar and veranda. They pay much more attention to the back of the house. You might drive by what looks like at $200,000 home from the street, but it may actually be worth $2 million.'

Sinn also said she has found that Lake purchasers are buying homes intending to keep them long term, not flip them for profit."

The Porta Cima home featured in this article is currently on the market for $1,849,000. For more photos, please visit the Custom Building section of our website under the Developments tab, or contact Tricia Sinn at 314-567-7649 or [email protected]

About Sinn Design Build
Founded in 1989 by Frank and Tricia Sinn, Ladue-based Sinn Design ??? Build is a custom homebuilder and renovator that creates inspired designs with impeccable quality and attention to detail. For more information, visit www.sinndesignbuild.com.
---