Sinn Design Build Cottages Modeled After "Not So Big House" Movement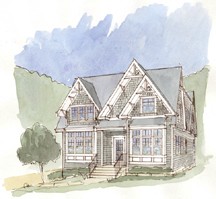 Sinn Design • Build, a Ladue Builder, is bringing "Not So Big" cottage living to its latest development, titled The Cottages of Ladue at Dwyer Place. Located in the heart of Ladue Proper, this neighborhood of manageable cottage homes is nestled just off Clayton Road with shops, restaurants, and schools all in walking distance. Each cottage home will be custom designed.

Based on the "Not So Big House" movement of architect Sarah Susanka, The Cottages of Ladue at Dwyer Place is the first development of its kind in the St. Louis area. The philosophy is based on creating functional homes, which favor character and quality of space over quantity. Even though these homes are smaller, especially in relation to traditional Ladue standards, homeowners will find that there may be more truly usable space in these "not so big" cottages.

Why? Because each cottage is custom designed to meet the homeowners' lifestyle and personality, and built to what the family needs and wants. Sinn plans to incorporate all the amenities of larger Ladue homes into the cottages.
The model cottage home at Dwyer Place is scheduled to be debuted on May 19, 2006 and will be open for tours during the Ladue Dogwood Days festivities.

The model cottage, located at #31 Dwyer Place is a two-story home priced at $1.1 million. It features 3800 SF of living space and represents the authentic cottage style architecture of the development.

Each home at The Cottages of Ladue at Dwyer Place will feature an optional, customizable Lock It and Leave It maintenance package, allowing homeowners the freedom to enjoy life without the burden of housework. Lock It and Leave It packages can include both exterior and interior maintenance, and are tailored to include as much or as little work as the homeowners desire.
The Cottages of Ladue at Dwyer Place will consist of at least 7 cottage homes, with additional lot acquisitions expected. Currently, only 5 home sites remain. Tricia Sinn reports that interested buyers have represented all age groups, including young professionals, growing families, and active boomers - all who value quality and manageability over size.

Sinn Design • Build was established in 1989 by Frank and Tricia Sinn. Based in Ladue, the firm specializes in custom renovation and home building. Sinn takes a design-driven approach to every project regardless of size, walking homeowners through a detailed assessment to determine needs, wants and budget.

---