Sinn Design Build Wins First Place in Ladue News Design Competition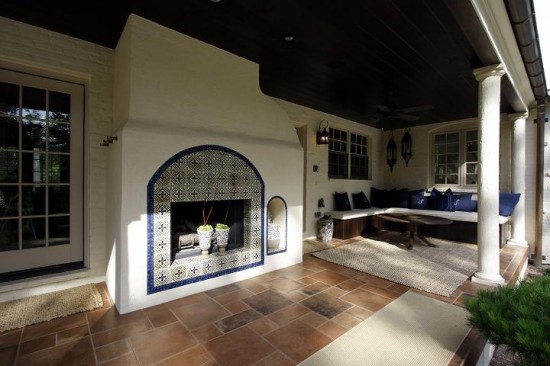 May 1, 2009: LADUE, Mo.— Sinn Design Build, a Ladue-based a custom homebuilder and renovator, earned first place in Outdoor Spaces in Ladue News' first-ever Interior Design Competition. The company also walked away with two honorable mentions. The awards and projects were featured in the spring edition of Ladue News' "Elegant Living" magazine.

Winning projects were chosen based on content, use of color and space, timelessness of design, use of pattern and texture, and just plain good taste. More than 300 projects were entered by 80 local interior designers. First, second and third place winners and honorable mentions were given out to the most compelling designs.

Sinn Design Build won first place for its design and construction of a beautiful 39-foot red-earth tiled veranda with built-in seating area and mosaic-tiled fireplace, an elegantly styled second-story balcony, and a 44-foot, electric blue pool and hot tube with an extended landscaped patio.

"One of the challenges of this project was making the outdoor area blend into and seamlessly transition from with the rest of the 1920s Mediterranean-style home," said Tricia Sinn, co-owner of the company. "When selecting materials, we tried to find materials similar to those used in the rest of the house, which included a multicolored clay-tiled roof."

Two other projects garnered the elite designer honorable mentions in the magazine. One was given to a kid's room project that featured an actual tree with a swing and a tepee. The other was granted to the design of a master bathroom, which featured a elevated tub surrounded by smooth rocks and two vessel bowls atop a granite vanity.

"The homeowners wanted to have a spa feel to their bathroom to take a break from busy family life," Sinn said.

Sinn Design Build approaches every remodeling project with the same business-planning principles an entrepreneur would use before investing in a new business. Sinn helps her clients to identify needs over wants, set goals and select features and materials ahead of time in order to remain within budget.

About Sinn Design Build
Founded in 1989 by Frank and Tricia Sinn, Ladue-based Sinn Design ▪ Build is a custom homebuilder and renovator that creates inspired designs with impeccable quality and attention to detail. For more information, visit www.sinndesignbuild.com.
---